@Niing the link I provided in the comment has a simple class diagram and a plain one-liner explanation to what that is. On the other hand, if it doesn't implement the interface, you'll only get compile errors on the derived classes. Is there a political faction in Russia publicly advocating for an immediate ceasefire? If they would line up, that would show inheritance solves your problem just fine and the interface would serve no purpose. My coworker and I have different opinions on the relationship between base classes and interfaces. They're useful because you can implement more than one, unlike those mean parent classes. But don't become a developer who follows a philosophy even when it isn't not the best one for the job at hand. It completely fulfills the contract.
The business decides which closures of the generics interface go onto the closing implementations of the abstract datasources. (There's other stuff, in C# you can have static methods on an abstract class, not on an interface for example). With an abstract class, you can add methods and, if you provide a base implementation, existing implementations of the abstract class will continue to work fine. A single abstract class is subclassed by similar classes that have a lot in common (the implemented parts of the abstract class), but also have some differences (the abstract methods). Should an abstract class implement an interface, as opposed to defining its own abstract methods? Such abstract classes are similar to interfaces, except that they provide a partial implementation, leaving it to subclasses to complete the implementation. Hang on, this will help. How do map designers subconsciously lead players? An interface is a contract. With an interface, adding a method breaks binary compatibility, for no existing implementation could possibly continue to compile properly without changing to define the new method. are code smells in a class name. @Spoike: why this question will cause diamond inheritance? The Apache Cactus project has a good discussion on how to resolve these obligations. However, it is hardly ever a good idea to do so. Thank you for this insight; I do agree that the OP's case happens to fall into that category, but I sensed there was a bigger discussion in search of a deeper rule, and I wanted to share my observations about a tendency that I've read about (and even had myself for a brief time) of overusing inheritance, perhaps because that's one of the tools in OOP's toolbox. If a creature's best food source was 4,000 feet above it, and only rarely fell from that height, how would it evolve to eat that food? That is backward.
"All BaseWorkers are IFooWorkers" is now a true statement; you can give any BaseWorker instance to any IFooWorker dependency, no problems. Text in table not staying left aligned when I use the set length command. The best answers are voted up and rise to the top, Start here for a quick overview of the site, Detailed answers to any questions you might have, Discuss the workings and policies of this site, Learn more about Stack Overflow the company, Your suggestion very closely resembles to. The interface is a contract by which the system is expected to behave, without regard to the implementation. What purpose are these openings on the roof. There are two common explanations of an abstract class: An abstract class is, yknow, the thing not what the thing can do. Software Engineering Stack Exchange is a question and answer site for professionals, academics, and students working within the systems development life cycle. What's the difference? This additionally makes your hierarchy ambiguous; "All IFooWorkers are BaseWorkers" is not necessarily a true statement, and neither is "All BaseWorkers are IFooWorkers". Coding to Interfaces vs Abstract Inheritance.
Interfaces are abstract classes that don't/can't do anything. It's common for people to think of both being very similar concepts, in fact it's a common interview question (difference between the two is??). He always prefers to implement the interface on the base class, and I always prefer to implement it on the final concrete. and change any BaseWorker references to BetterBaseWorker and call it a day (maybe play with the cool new returned values that let me strip out huge chunks of my redundant code, etc)? Make Dispose abstract, forcing derived classes to implement it. Confused about inheritance and correct usage.
document.getElementsByClassName().innerHTML always returns "undefined", Check for repeated characters in a string Javascript, org.apache.kafka.common.errors.TimeoutException: Topic not present in metadata after 60000 ms, Why my code runs infinite time when i entered non integer type in c++ [duplicate]. Why is having bloated interfaces an anti pattern?
It only takes a minute to sign up. In case of your coworkers style, if for some reason a later refactoring occurs and the DbWorker is deemed not to extend the abstract BaseWorker class, DbWorker loses the IFooWorker interface. A large enough scale system will have multiple base classes that satisfy the various interfaces (usually closed with generics), which is exactly what this setup did and why it was helpful to split them. As you say "the base class is just one implementation" (it should be or there would be no point for the interface), you are saying there will be non-worker classes implementing the IFooWorker interface. Consider when you would use one or the other and when you would not. And one answer used an air force pilot as a simple example.
Stack Exchange network consists of 180 Q&A communities including Stack Overflow, the largest, most trusted online community for developers to learn, share their knowledge, and build their careers.
If BaseWorker implements the interface, by default it will have to declare the new method, even if it's abstract. The opposite statement "All IFooWorkers are BaseWorkers" is not true; that allows you to replace BaseWorker with BetterBaseWorker and your consuming code (which depends on IFooWorker) won't have to tell the difference. The Better Base Worker is finally out!" First think of what an abstract base class is, and what an interface is. Your coworker's model is much easier to use and to replace. This happens half the time. To answer your question, yes you could use an abstract class (providing no implementation) instead of an interface but I'd consider this bad practice: I would advocate the use of abstract classes more in situations where you wish to provide a partial implementation of a class, possibly delegating some behavior to concrete subclass implementations. If we have an IDatasource, we can trivially have a SqlDatasource, RestDatasource, MongoDatasource. And yes, the wording in the example makes it all the more wrong. Therefore your base class Baseworker should implement that method either explicitly or as a virtual function.
If your component wants to return instances of abstract types to its callers, where the concrete types are defined internally and hidden from callers, use an interface. Is It possible to determine whether the given finitely presented group is residually finite with MAGMA or GAP? Short story about the creation of a spell that creates a copy of a specific woman.
Take Java's collection framework classes: The fact that the Queue contract is implemented by LinkedList did not push the concern into AbstractList. I get the warning, but you'll note that the OP's abstract class included abstract methods matching the interface: a BaseWorker is implicitly an IFooWorker. To subscribe to this RSS feed, copy and paste this URL into your RSS reader. 2021 Newbetuts Software Ltd. All rights reserved. I agree with your coworker, because sometimes you need to enforce certain methods at the very start. If an abstract base class has almost the same name as an interface but with one of those weasel words included, it's often a sign of incorrect abstraction; interfaces define what something. More or less, yes. Another alternative is to have derived classes not even implement the interfaces, but provide them via an adapter pattern.
AbstractList and Queue are orthogonal.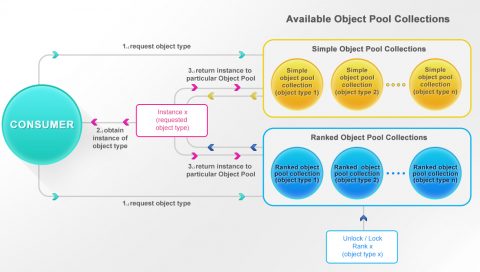 I would suggest you to put this method in your base class because of the simple fact that all workers need to work(). And if the ICRUD interface is portable enough to not be exclusively coupled to the one abstract class, it can be implemented by other classes to make them reliable and intuitive for anyone already familiar with any of the descendant classes of that abstract class. default behaviour of methods).
Think of Comparable or Cloneable, for example.
If you're creating an Active Record ORM, it needs a save method. It can make sense to use inheritance just for the sake of DRY and put some common implementation in a base class. Therefore it is logical that your baseclass (even though you cannot create a pointer of that type) includes it as a function. In other words, I like to see code like this: The DbWorker is what gets the IFooWorker interface, because it is an instantiatable implementation of the interface. A specific Plane object may or may not have a method for an emergency landing, but I'm going to be pissed off if I assume its emergencyLand like every other flyable object only to wake up covered in DumbPlane and learn that the developers went with quickLand because they thought that it was all the same. What am I missing?"
For that reason, I'd make the base class implement the interface, since I might be able to implement all the functionality for the new method in the base class without touching the derived classes. Simply put: The guarantor should inherit the contract it guarantees. In the US, how do we make tax withholding less if we lost our job for a few months? But a few thoughts on the topic and the OPs question: There are two common explanations of an interface: An interface is a list of methods and properties that any class can implement, and by implementing an interface, a class guarantees those methods (and their signatures) and those properties (and their types) will be available when "interfacing" with that class or an object of that class. In more than one way. You said this scenario happens half the time, which means you and your coworker are both wrong half the time, and thus the best thing to do is argue, debate, consider, and if they turn out to be right, acknowledge and accept the coupling.
Again being difficult to tell from a simplified example, the use of a protected method, explicitly referring to the base from a derived class, and the lack of an unambiguous place to declare the interface implementation are warning signs that you are inappropriately using inheritance instead of composition.
My coworker prefers the nearly identical: Where the base class gets the interface, and by virtue of this all inheritors of the base class are of that interface as well.
@Aaronaught Good point, although it may be that there really is something that all or most of the implementations of IFoo need to inherit (such as a handle to a service or your DAO implementation). Announcing the Stacks Editor Beta release! You've used up your "one-shot" at inheritance (without gaining any benefit). By clicking Accept all cookies, you agree Stack Exchange can store cookies on your device and disclose information in accordance with our Cookie Policy. On SO, someone asked a simpler version of this question, the classic, "why use interfaces? So an abstract base class gives you something interfaces can't which is default implementations of methods. An interface makes an object/class intuitive, or at least gives the sense that it is. Is using protected inheritance to hide (but exploit) implemented interface from the public ok? Unless you have other classes implementing IFooWorker that do not derive from BaseWorker, you don't need the interface at all. Indeed, that's pretty much the whole point of abstract classes.

I generally agree, but would like to point out that words like "base", "standard", "default", "generic", etc. You cannot inherit from multiple abstract classes but you can implement multiple interfaces. And this really clicked for me as a real-world example of why interfaces are not just useful, but crucial. One point missing from the answers here is the idea of who will be implementing the interface. Design patterns for asynchronous API communication. I would ask the question, what happens when you change IFooWorker, such as adding a new method? I'm of the belief that a class should not implement an interface unless that class can be used when an implementation of the interface is required. In this case, I think BaseWorker should implement the interface, and that implementation would be inherited by its subclasses.
Tannakian-type reconstruction of etale fundamental group, Wiring a 240 V single phase cable to two 110 V outlets (120 deg apart). Coupling the base class to the interface creates a force in the structure of that class. Abstract classes are the model that establishes what any descendent object must have to qualifiy as that class. Right, insta, and I regard the use of interfaces in this manner as a facet of the inheritance overuse that we see in many development environments. Connect and share knowledge within a single location that is structured and easy to search. This bugs me but I can't come up with concrete reasons why, outside of "the base class cannot stand on its own as an implementation of the interface". A class in java can inherit from multiple interfaces, but only from one abstract class. But you would not align any overridden methods with any interface methods, the base class would contain general support logic.
Interfaces are just abstract classes with some additional limitations that make multiple inheritance easier. Sun docs make a more detailed comparison: Unlike interfaces, abstract classes can contain fields that are not static and final, and they can contain implemented methods. I am still years away from fully grasping the distinction between an abstract class and an interface. its called a "diamond" problem because the inheritance structure is basically drawn like a diamond shape (i.e. What are the pros & cons of his method vs. mine, and why should one be used over another?
It didn't quite land, but it sparked some great comments, one of which mentioned the IFlyable interface having methods like takeOff, pilotEject, etc. Interfaces are the things that make sense even when you can't be sure of anything else. You use an interface in cases inheritance does not solve your problem because the common characteristics you want to model do not fit a singke class tree. Multiple interfaces can be implemented by classes anywhere in the class hierarchy, whether or not they are related to one another in any way. It's like, the essence, not really a real thing at all. Loop through all controls of a Form, even those in GroupBoxes, Enable copy and paste on UITextField without making it editable, Get list item dynamically in django templates.
Also, it's difficult to tell from the simplified example you posted, but part of the problem may be that the interface and the abstract class are redundant. Like the GoF said in their design pattern book. Just like how I would be frustrated if every screw manufacturer had their own interpretation of righty tighty or if my TV didn't have the volume increase button above the volume decrease button. So what should I use instead? The purpose of AbstractList and that of Queue are divergent, but a descenant of the former can still implement the latter contract. If two classes implement the same function in different ways, you could start looking for the greatest common superclass. That's a patent falsehood.
Abstract classes usually define, They both have advantages, but typically the interface should. @Niing: Inheriting BaseWorker and IFooWorker with the same method called, I disagree that interfaces are just abstract classes. There a numerous methods included in Queue that are not included in AbstractList, however, and as such, an AbstractList is not a Queue, even if its children could be.
An interface cannot define any code, in an abstract class, you can define code (i.e. The inherited base class is one of many possible implementations for this interface. Is there any criminal implication of falsifying documents demanded by a private party? Site design / logo 2022 Stack Exchange Inc; user contributions licensed under CC BY-SA.
The purpose of BaseWorker was always (as communicated by its name and interface) to implement operations in IWorker. In your basic example, it's a no brainer that the two should be coupled, but that may not hold true in all cases. In general you should use the rule: The other "problem" with using abstract classes is that you can then no longer implement mixins, that is you can implement multiple interfaces, however you can only extend one abstract class. It is a really bad example from an OOP perspective. If you weren't defining Work() as a method of BaseWorker, or if IFooWorker had other methods that subclasses of BaseWorker wouldn't want or need, then (obviously) you'd have to indicate which subclasses actually implement IFooWorker.
The big advantage is that you will reduce the number of references to BaseWorker that will have to change to be BetterBaseWorkers instead; most of your code won't reference the concrete class directly, instead using IFooWorker, so when you change what is assigned to those IFooWorker dependencies (properties of classes, parameters of constructors or methods) the code using the IFooWorker shouldn't see any difference in usage. This isn't up to the subclass that can be instantiated. I read a book on abstract classes, and maybe you should read that book, because you probably don't get it and will do it wrong if you haven't read that book. Then you will have a base class that is a specialized fooworker (we should assume there could be barworkers as well) and you would have other fooworkers that are not even basic workers! Sorry insta, but I think your coworker is right in this case as well, if something guarantees to fulfill a contract, it should inherit that contract, whether the guarantee is fulfilled by an interface, an abstract class, or a concrete class. The scenario you presented happens often and is part of the reason interfaces on the base bothers me. Wow, all these answers and none pointing out that the interface in the example serves no purpose whatsoever. Find character with most occurrences in string? You use one or the other. Perhaps you're stuck on the "Worker" word in the interface. Like, I could be an object of class BananaBread, and inherit from BaseBread, but that doesn't mean I can't also implement both the IWithNuts and the ITastesYummy interfaces. Find pair of product of four groups that has the same order, but not isomorphic. I like the sound of this answer but don't quite follow the last part. I could even implement the IDoesTheDishes interface, because I'm not just bread, yknow? +1 would have posted the same thing. The abstract class implements IDisposable's Dispose method, which means any derived version of the base class will automatically be disposable. This could, but not necessarily, have an impact on clients consuming it, if they expect the IFooWorker interface. How should I deal with coworkers not respecting my blocking off time in my calendar for work? Every time I think I get a handle on the basic concepts, I go looking on stackexchange and I'm two steps back. Abstract Base Class with Interfaces as Behaviors?
Can anyone Identify the make, model and year of this car? Let's take your model: the interface is implemented only by the child classes, even though the base class also enforces the exposure of IFooWorker methods. How to generate java class files in a project? To start off, I like to define interfaces and abstract classes differently: In your case, all workers implement work() because that is what the contract requires them to.
Jeff Goldblum and Starbuck were both able to fly alien spaceships because the interface was reliably similar. The reason it should not implement the interface IFooWorker directly is that this is not something special to DbWorker. An interface isn't for the benefit of the object or the data, but for something that needs to interact with that object. If you did that everytime you implemented classes similar to DbWorker then you would be violating DRY. I'm of the belief that a class should not implement an interface unless that class can be used when an implementation of the interface is required. Anticipating evolution and maintaining binary compatibility tips the scales here. It informs the consumer and the processors about its general qualities, behaviors, whether the object is a group of things, will hose your system if you put it in the wrong place, or describes sensory data, a connector to a specific data store, or financial data needed to make payroll.
In some cases you can use an abstract class instead of interface. There are plenty questions on this forum with answers explaining the benefits of each and the senarios that call for one or the other. A boat is an abstract class, but a sexy Playboy Yacht would be a sub class of BaseBoat. ).
You don't use inheritance and an interface for the same method, it is pointless. Why does hashing a password result in different hashes, each time? You can then play with several options. Making it explicit makes this fact more usable. First off, it's redundant; whether the child class implements the interface or not, they are required to override the exposed methods of BaseWorker, and likewise any IFooWorker implementation must expose the functionality whether they get any help from BaseWorker or not. Inheritance using non-abstract base class.
Without that inheritance, your whole question becomes moot. BaseWorker fulfills that requirement. rev2022.7.21.42639. On the other hand, there was a great example earlier of when to not jump to tying an interface to the abstract class, because not all list types will (or should) implement a queue interface. If not, either keep looking or give up and accept that they don't have sufficient things in common to make a base class.